Skied Pete's Dream aka North Face of Carson Peak on saturday. I've been dreaming of this line myself for several years, and after the recent snows, I just knew it would go. Left the BLC at 6:30am and rolled up around 9:45 to perfect temps at my favorite street, Dream Mountain Drive. Busted out the binoculars and turned on the dual-core photographic memories, namely my brain and my sony digicam to memorize the descent.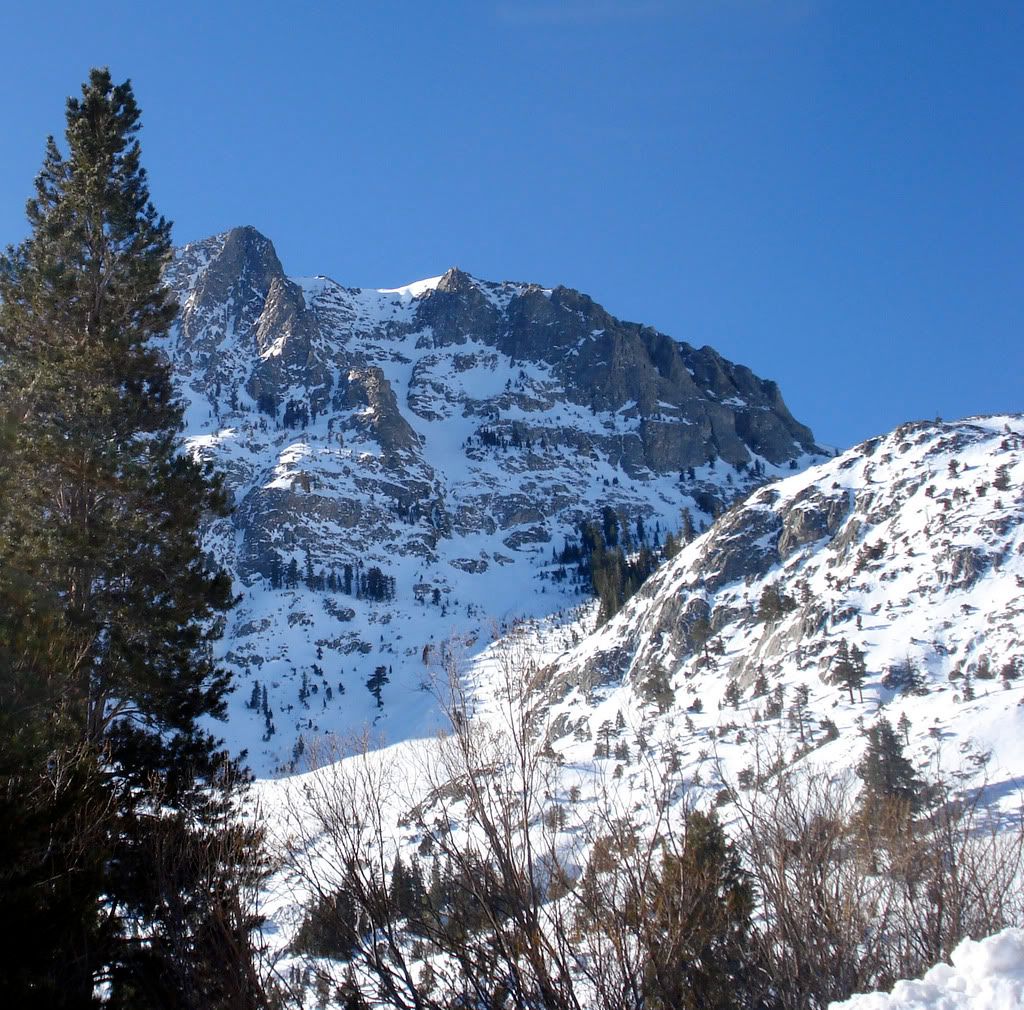 Skiing up the devil's slide, this is the last view of the line you get, which is fairly imposing, to say the least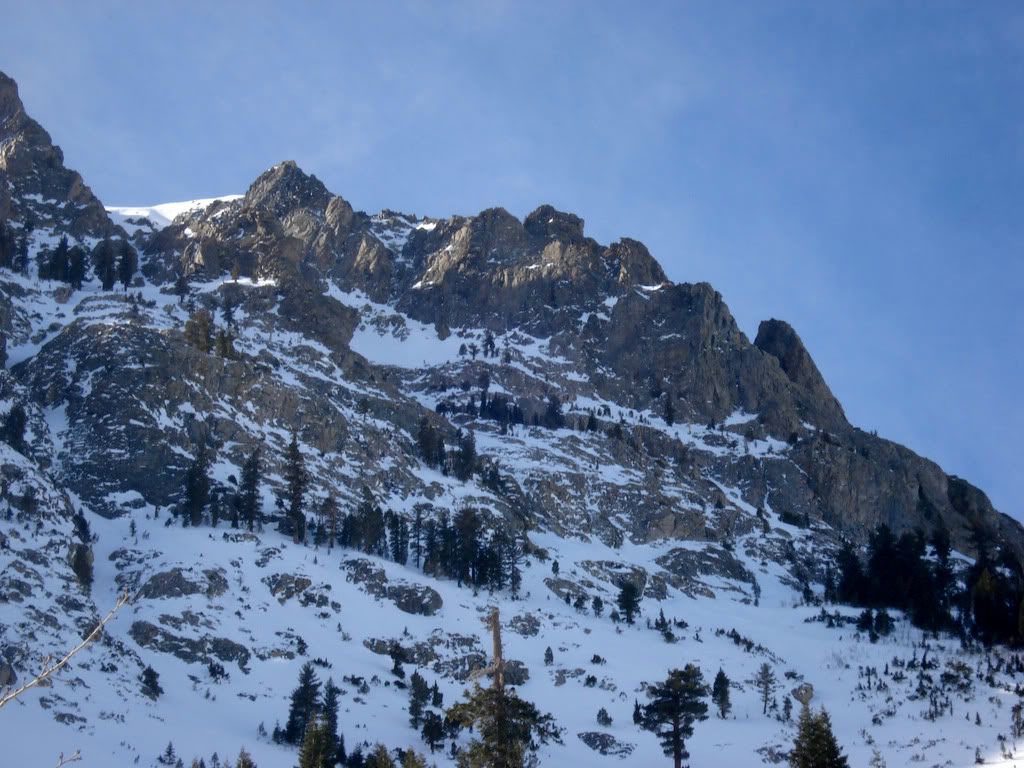 Approaching via the ledges above the slide worked great, though I could definitely understand how one could find themselves in a situation where you better be able to bust out your cap extreme de francaise while linking up the upper sections to the slide. The top of the peak is a really neat plateau affording fabulous views of the Reverse Creek Drainage and Mono Lake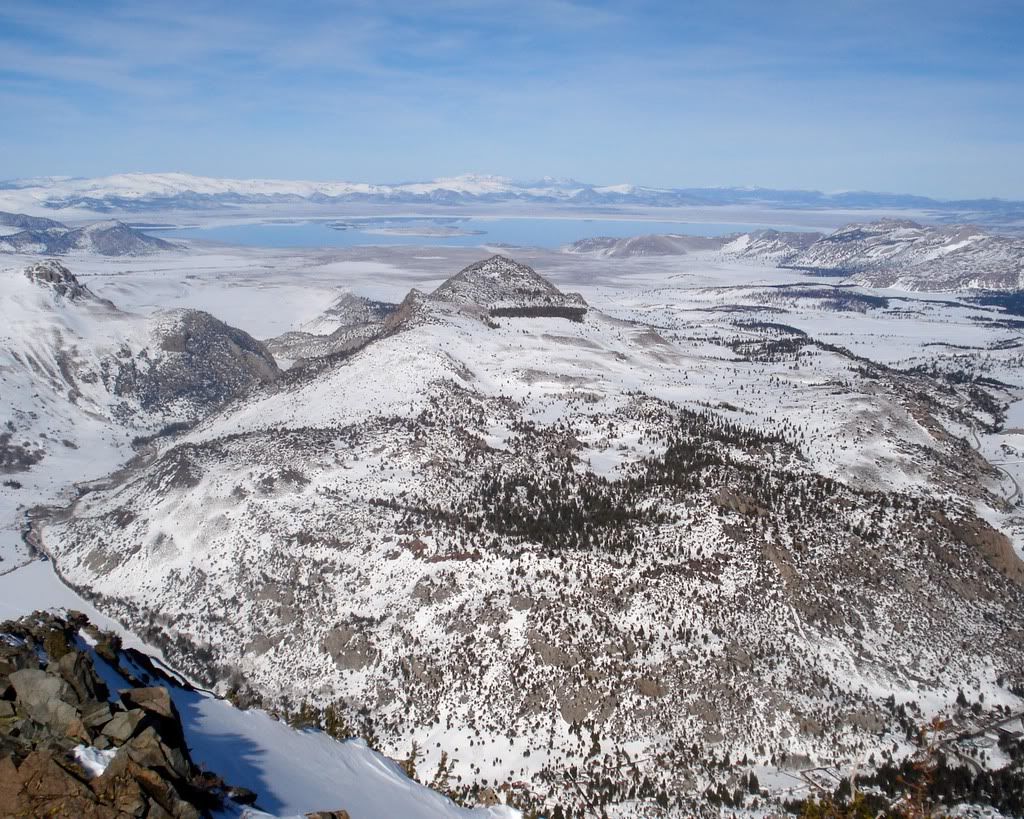 The Minarets: Clyde, Ken, Dawson, Leonard, Michael, Rieglehuth, Eichorn, Starr, Adams, thats all I can think of off the top of my head

Banner and Ritter, looking wonderful as always on a bluebird day in paradise
After a nice catered luncheon on the summit, it was time to crank the beats and rush out of the locker room onto the court!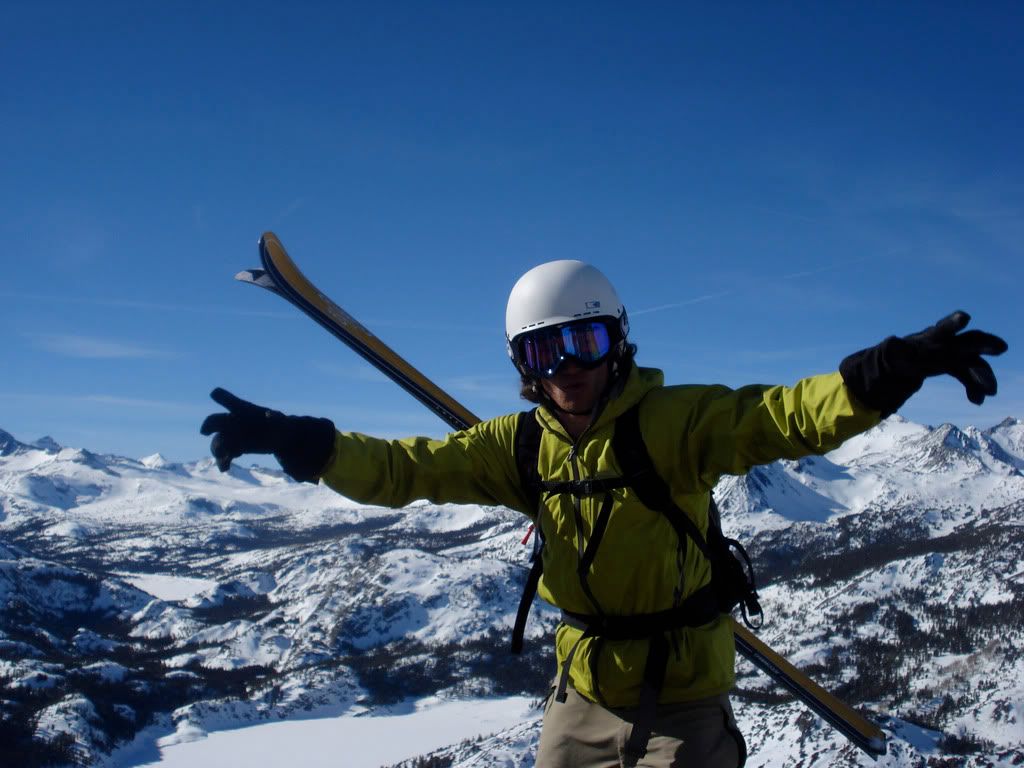 In higher snows, you could drop in off the summit. Given the cliffy madness that ensued below, I wasn't sure if I could link the summit pitch with the actual skiable line a few hundred feet over, so I opted to follow the awesome exposed knife edge ridge to the more proper entrance. There was a spicy section of awesomely exposed fourthclass downclimbing that really put the candles on the cake. I was pretty fired up at the moves just to GET to the line
Dropping! Couple other tracks on the face, skiing very conservatively and logically, which was probably a better idea. I went fall line over the traverse and over the point into a great cliff band section in amazing recrystallized powder
Once again, really fired up on the ski. Coverage was thin through the upper cliff bands, small airs to rocky scrapy landings but with awesome snow. 45 degrees is just about flat enough an estimate, but in a giant playground like this, perfect!
Working my way down through the exposure, cliff zone number 83764. Screaming with joy at this point.
All upper lines converged to this 50 degree, tip and tail scraping chute. Gotta be careful making turns, since getting caught up and going over the bars would result in a long ride. Snow continues to be awesome.
Then things got silly. The other tracks went out right, in the logical open terrain, and I went fall line into the goodies. Approaching a 15 foot slabby cliff with an unknown mandatory air out the bottom, I, for whatever reason, opted to bust out the "when in the playground, find the slide!" mentality and transfered skis onto rock. In the case of a slip, I figured I could just ride it out on my hip and stick it below. Cool, lets do it. Balancing pole tips on micro edges and my uphill hand palming the granite slopers, I began sliding my skis along the rock, feeling the edges bite into the coarse stone. After a few feet of this, and being fully committed, I began to laugh as I wondered, why am I purposefully sliding across rock in no-fall zone land just for fun? Is skiing down a face not enough? Hmm. Well, like Jay said, "Rather die enormous than live dormant!" Oh yeah, and cuz its really fun!!! Let's keep going and get out of this situation. First, a picture
Right after putting my camera away and continuing to slide the last few feet, I felt and heard the third-eye opening sound of "skkkiccckkkttt!!!" Both skis lost purchase and I entered a realm of deep focus as I loaded 90 percent of my weight onto my pole tip, which was balanced on a nickel edge and onto the slopey crimper I had my gloved right hand on. Then the classic sound of "Pssssssshhhhhhhhh (inside the head: STICK IT!!!!)" as I moved my skis back onto edgeable crystals of granodiorite and regained purchase. Deep breath, that was awesome, in more ways than one. Another foot of traversing got me to a point where I could use my pole and hand as rocket launchers and boost a few feet out and over and stick the three foot drop onto the mini hanging face below. Two turns later and I arrived at the nice five foot slanty air out of the zone of madness. Another pole-aided boost landed me on the much more windpacked slope below. Snow here became increasingly windpacked and hard through the main couloir. Pitch remains 45 for many turns, with a few nice pockets here and there. Just farmin' it at this point, loving the fabulous exposure and views. At this point I could begin to feel the huge terminal cliffs below approaching, its a trip how you can feel their presence. I felt the same way a few years ago, on a smaller scale, when I skied Chad's Choice (M0) in the munchkins. Super cool feeling.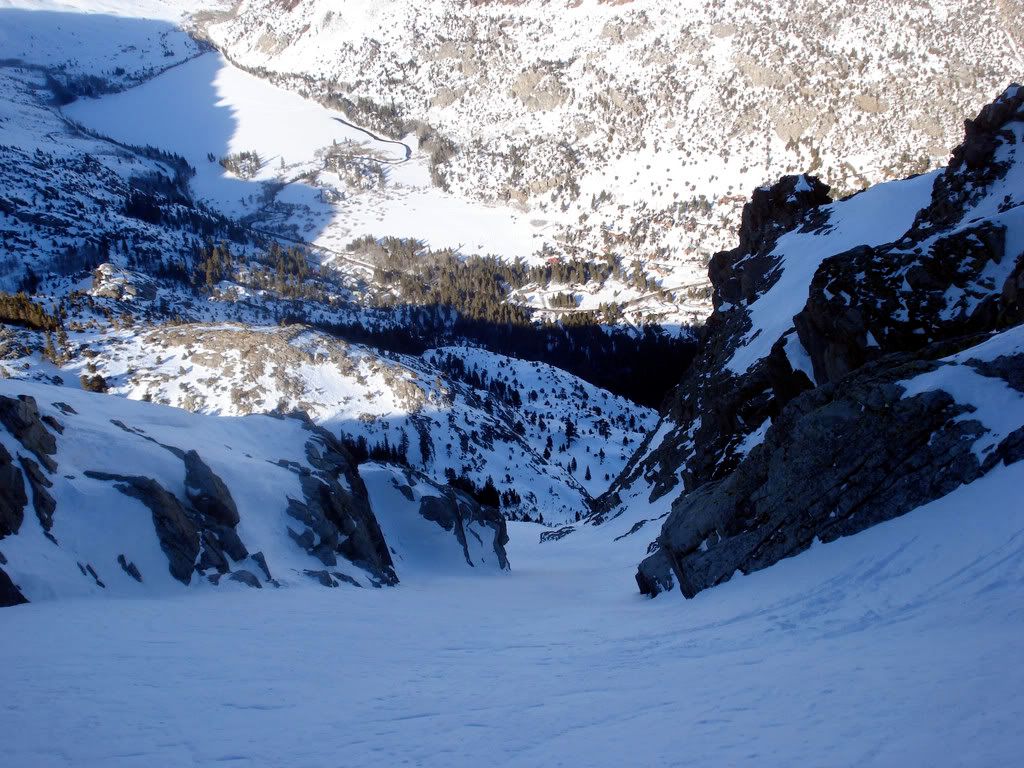 Soon I was at the point of no return, where the other tracks went hard left through the treed ledge and out to easier, un-exposed terrain. I went out left for a little bit, but then just had to go play in the fall line again. Some neat terrain was encountered here, with plenty more playing in the rocks. Snow got better here, though many rocks were uncovered during more than a few turns. This section was really fun, working left then down then left into the farmland below where the turns are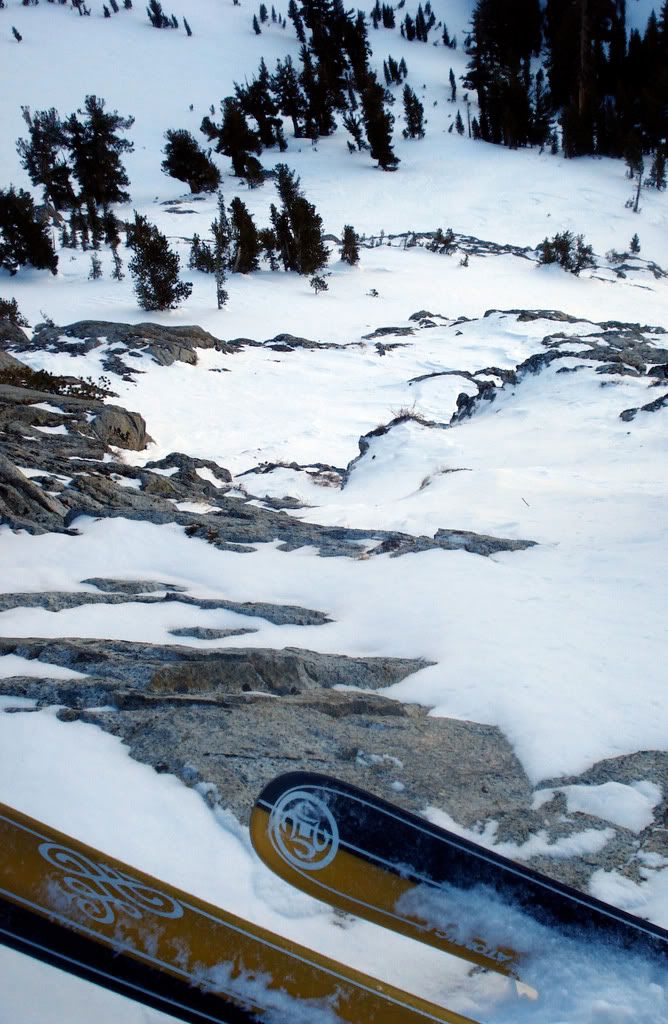 And soon enough, I was skiing out below the final cliff line, stoked out of my mind. Snow got breakable here, due to the wonderfully mild temps that were now chillin back out. A couple fun mini-golf lines allowed a few more laughs before making some 11s back through the forest and to the car, where I met a neighbor named Bonnie who was way cool and stoked to talk about skiing. Looking at the clock, the descent took nearly an hour. Lots of thinking and figuring out on the way down takes time, I suppose.
This line unified my favorite aspects of skiing, and to date is probably one of the most fun runs I have ever experienced. Truly a grand run.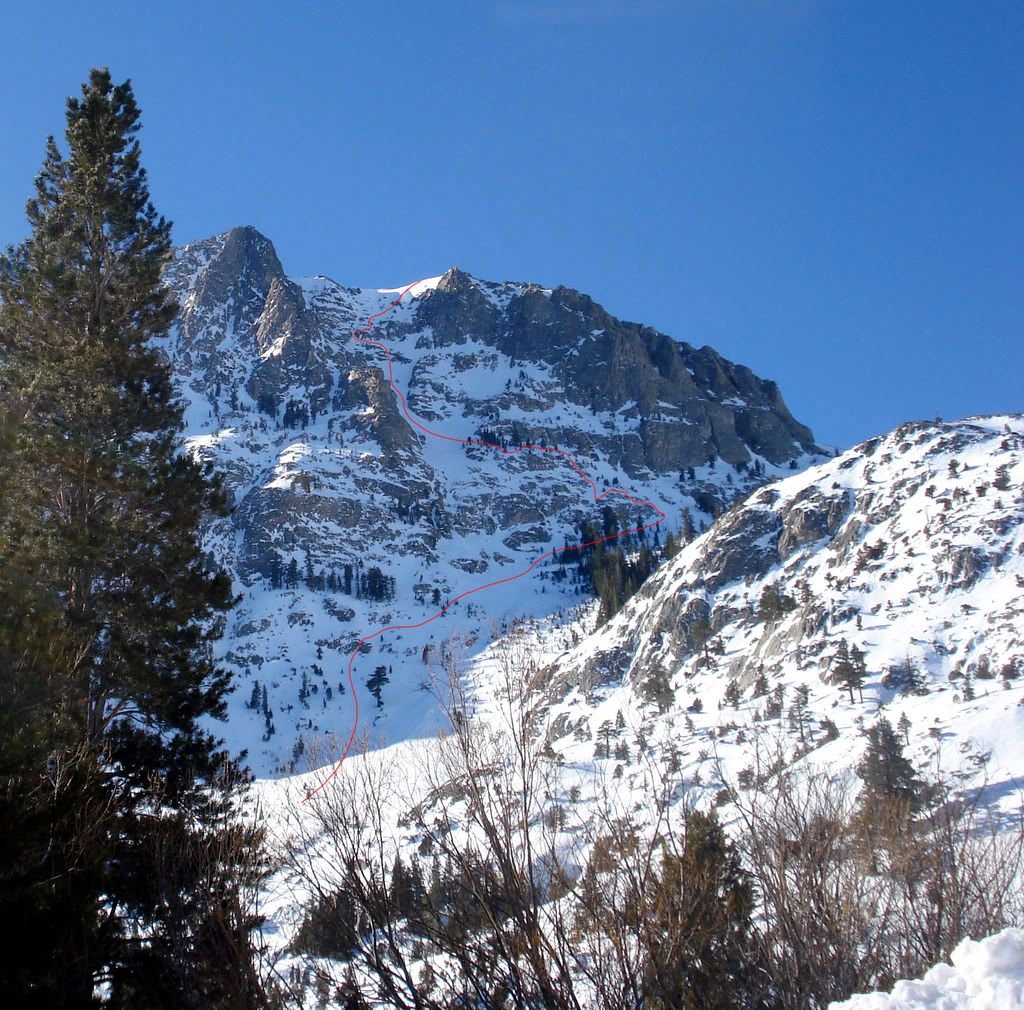 Oh! what a view