Back to - you guessed it! - Dana Plateau again for Memorial Day weekend. On Sat went to Squaw for some lift-served so that my girlfriend Nicole could get used to her new AT setup (1/2 off demo gear at Mammoth Mountaineering!). Liketoride made a guest appearance, and we had some fun turns in super heavy wet snow. Then down to Tioga, where the road was open to the gate, and we met up with Larry and jbaysurfer, who was also itching to pop his plateau cherry. Sounded like Sat was the day to be out there; we heard tales of powder in Dana couloir, and porn in Powerhouse. But we still found some goods on Sun/Mon.
V-bowl is getting burnt. Pretty much done. Though I did talk to one guy who rode Coke chute on Sat, and rode a good portion of the way down next to v-bowl in the trees; he said the hike out wasn't too bad.
Powerhouse still goes all the way.
Ellery is in great shape!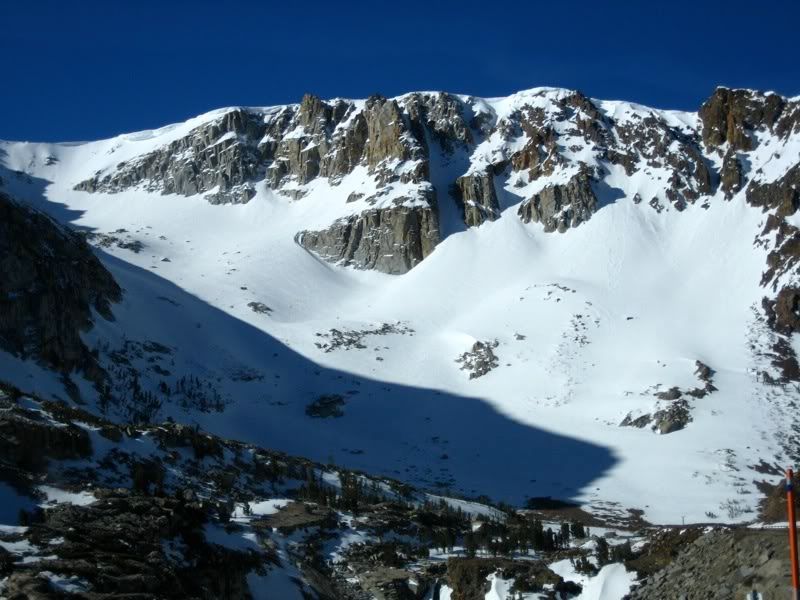 Tons of people heading up Dana on Sun (at least 10 in this pic alone). Most of them either turned around by Solstice and rode back down the corn on the west-facing approach slopes, or went to the summit and continued to Dana couloir, which looked awesome. No ice this year! There were a few tracks in Solstice too; not sure what the entrance situation is like. Certainly there's a huge cornice there.
Instead, we headed over to Unknown chute, which was closer, and untracked. This was Nicole's first eastside backcountry run. She even says she still likes me. :)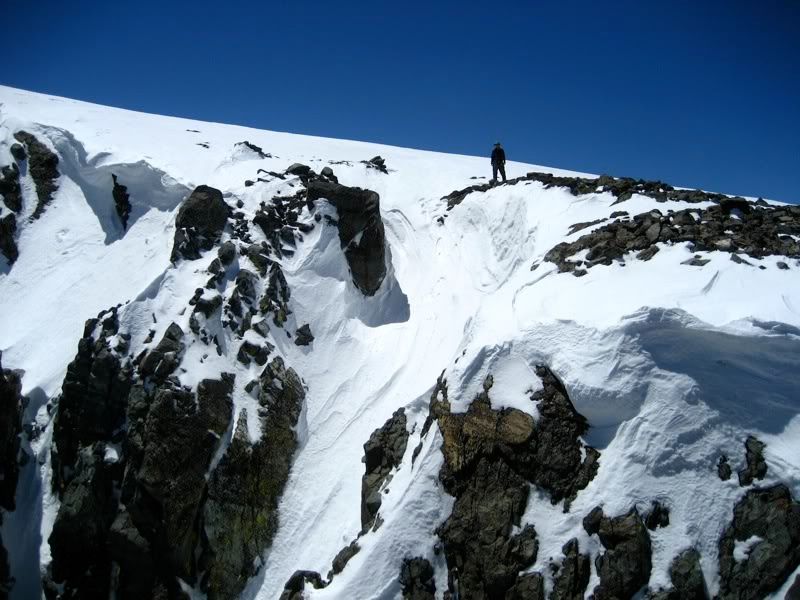 Jbay:
Jbay stoked. Nicole tired.
Up to the plateau.
Liberty snow cave. Unknown visible at the top middle right.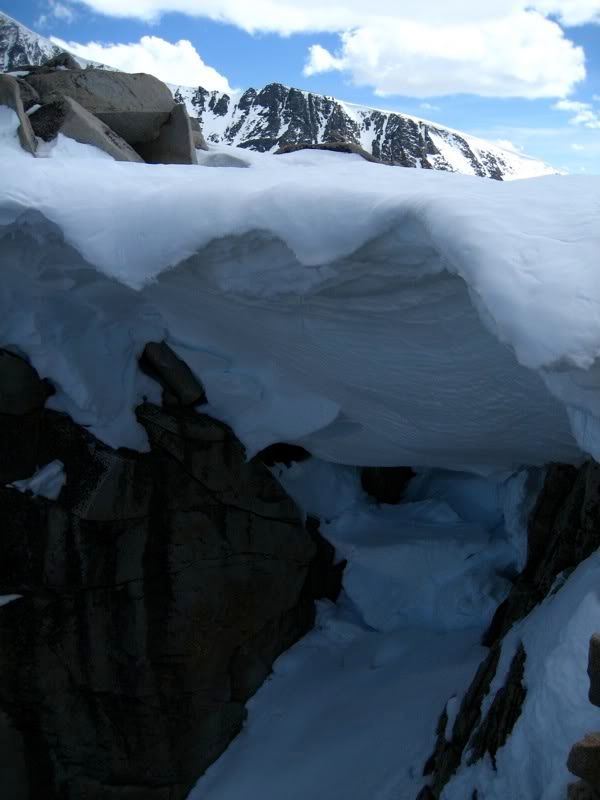 Down and out Ellery, catching it on the refreeze.
Monday it was a bit colder and windy, and we opted for a late start and short tour - Ellery fit the bill. Here's Larry celebrating his 62nd birthday by climbing and riding Ellery bowl. He said after he got back he was going to sign up for social security. :) Cool clouds out that day.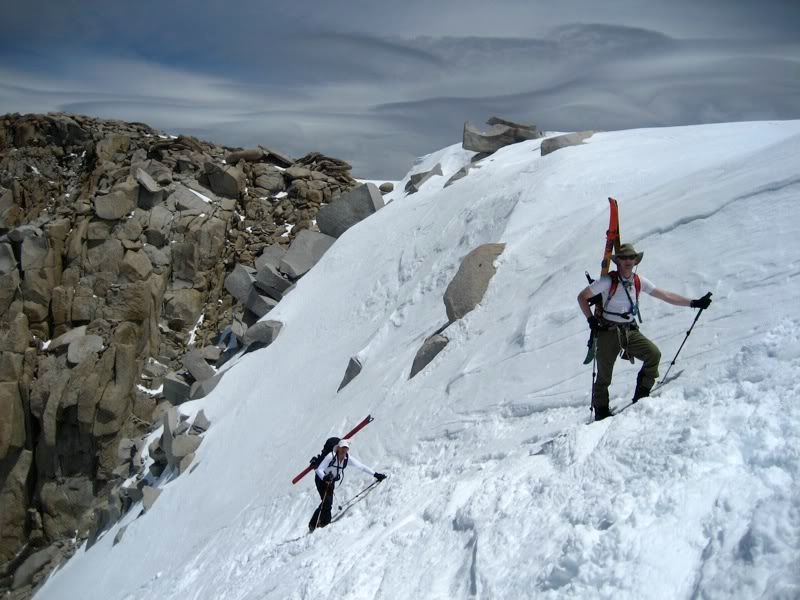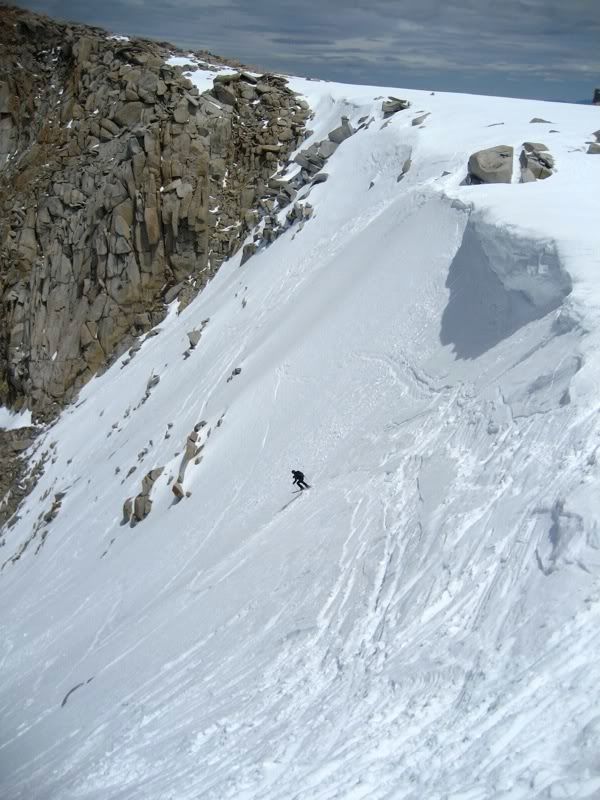 He and Nicole rode the bowl back to the car in nice corn. Jbay and I went searching for some chutes. Chute Out looked nice, but it had a track in it.
So we went over to what I think is called S couloir, and it was untracked. Great porn, becoming corn down low. Jbay got this shot w/my camera of me dropping in. I wish I had kept the camera and gotten a shot of him about halfway down, cuz there's a nice Powerhouse-fin-like spot in there. Next time.
Pretty damn good conditions for Memorial Day weekend! Weather hasn't looked so great since though... pretty much straight to summer!
BTW...
HUGE
thanks Mike for getting Nicole's boots dialed (and for just generally hooking us up bigtime)! She was able to ride both days after that w/no problem. You rock! :)