Okay,
I think this thread should come with some sort of a disclaimer, as in "Mike and John were breathing Nitrous Oxide" when they round-tripped it in 12 hours.
That time is crazy fast!
And it's
especially
crazy fast when you factor trying to sustain that kind of pace over such a long time.
Anyhow, I directly blame this thread for giving me the very foolish idea of trying to do the exact same thing myself...
Shepherd Pass Trailhead, looking east toward Owens Valley: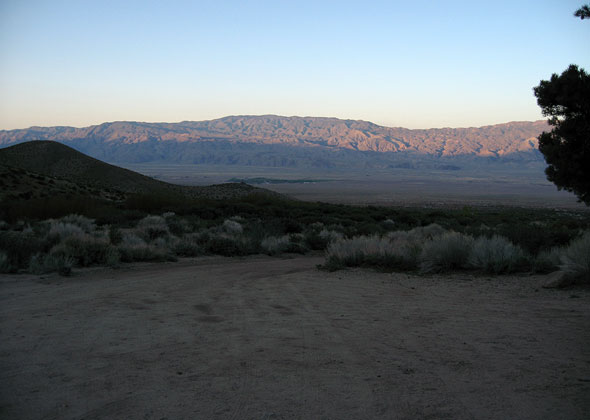 To give myself a chance, I started hiking at 12 midnight. I made it ten hours up, as far as Shepherd Pass, when I lost the faith and decided to turn back.
I was exhausted.
My feet were wrecked (I'd tried to do the whole hike in my megarides), and I was starting to worry I wouldn't have enough energy to make it back out in one day.
Well, wouldn't you know it, turning back like that just didn't sit well in my craw when I got home.
Where is the craw, anyway? And can I have it surgically removed?
Causes me nothing but trouble.
So I went back to the Shepherd Pass trailhead a week later to do it all over again.
tromping around in the dark: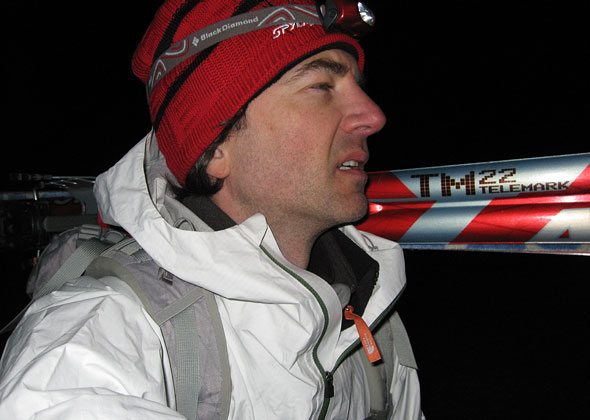 This time, I started hiking even earlier. I'm a little embarrassed to say just how early, but I didn't get to see the sun for nearly eight hours...
5:16 a.m.: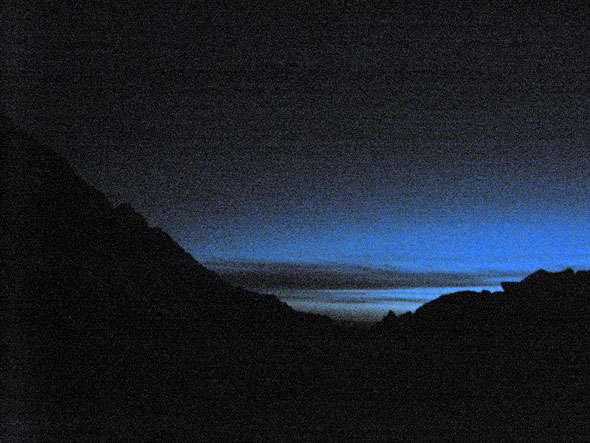 But when I did finally see Mount Tyndall from Shepherd Pass, the moment was inspiring.
Tyndall:
And this time, the outcome was a little different:
summit shot:
I was able to ski Tyndall from the summit ridge down the north rib, then pretty much all the way back to Mahogany Flat.
skiing the north rib: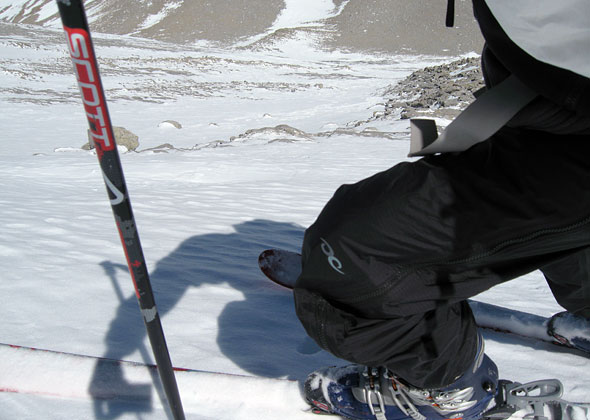 Only a few patches of walking in between.
Once I reached Mahogany Flat, the snow vanished, and the rest of the way home was pure punishment.
Can't say I really recommend this as a recreational endeavor. But Tyndall definitely now ranks as one of my favorites. Incredible mountain.
My round-trip time including equipment changes, mini-naps, and getting lost (twice) was 19 hours.
There you go...if you're a little looney like myself, consider yourself warned. You just might be the next one to find yourself tromping around in the dark on the Shepherd Pass trail...
More photos and full trip report:
Skiing Tyndall's North Rib
Andy