In case the title had you confused, here are some KEY definitions of terms:
Giggin
:
http://www.urbandictionary.com/define.php?term=giggin
Thizzin
:
http://www.urbandictionary.com/define.php?term=Thizzin&defid=3184429
Hoo Ride
:
http://www.urbandictionary.com/define.php?term=hoo%20ride&defid=989713
Finally, the anthem of beats (not PG so have your kids don the earmuffs):
http://www.youtube.com/watch?v=HdSLpHVT4GI
Middle Palisade may just be the ultimate gem of a ski descent in the Sierra Nevada. It is high, steep, exposed, in a location of surrealistic beauty, long, and rare. The aesthetic nature of the mountain and descent are completely captured by all the definitions and derivations of the word (e.g. aesthesis). Truly, a run of mind-altering perception and experience.
Early starts are very necessary for maximum fun and car to car style. It is poor form to bivy unless you bring speakers and a laptop to watch movies.
Definitely inspiring to kick it with the Sierra Allstars, John (adjusting his boots here) and Christian. They made us look like the JV team by adding on skis of 2 more 14ers on that day!
Jah light pon de Sierra! Truly natural mysticism...
Feel like dancin!
Upon arriving at the bergshrund, we saw sluffs coming down out of the lowest 3ft wide ice choke. The rimeye was at least 6m tall in places. We knew John and Christian were skiing down, so we waited for them to finish the run before starting up and risking being sluffed off into oblivion with sharp points everywhere. No cuisinart blender for these gangstas. They reported a few exposed and technical cruxes and waist deep blower. AWESOME! So The Facktor and I set off up the line while then went to hit Sill and V-Notch (in AK quality snow, YES!). The first ice bulge was a nice warm up. Deep blower and thin coverage over rocks and water ice ensured we'd have to ski this line with care. Several mixed rock and ice cruxes in the line forced us to keep our shred-vision going to ensure proper navigation of hazards.
Nothin like soloing some class 3 in winter! Heels down! Good sticks! Hook it! Use de hands mon! Thrutch!
Clouds began rolling in as we neared the top. Our 2 hours of sleep and not enough water began to enhance the level of kooky conversation as we laughed our way up the chute. Gone was the glorious solar insolation John and Christian enjoyed for photos on their descent, but we had amazing snow and decent light still.
Dipped in butter at the top! Dusy Basin et al.
CREST SLIDAZ HOO RIDAZ!
Twrekx joined the fun. He spent most of the time talkin on his ghetro on da way to tha sto'
http://www.urbandictionary.com/define.php?term=ghetro
3 2 1! Just for Fun! 10k vertical relief to the valley far far below, we squeezed about 65% of this out before runnin out of snow. Not too shabby. Somewhere below, Weezy was thizz dancin away in his own mind. Ah Jah Mountains!
On I-80 doin one-eleven
Make em say UHHHHHH!!!!! FAT LINE FO US!!! WHA WHA WHA WHAT!!!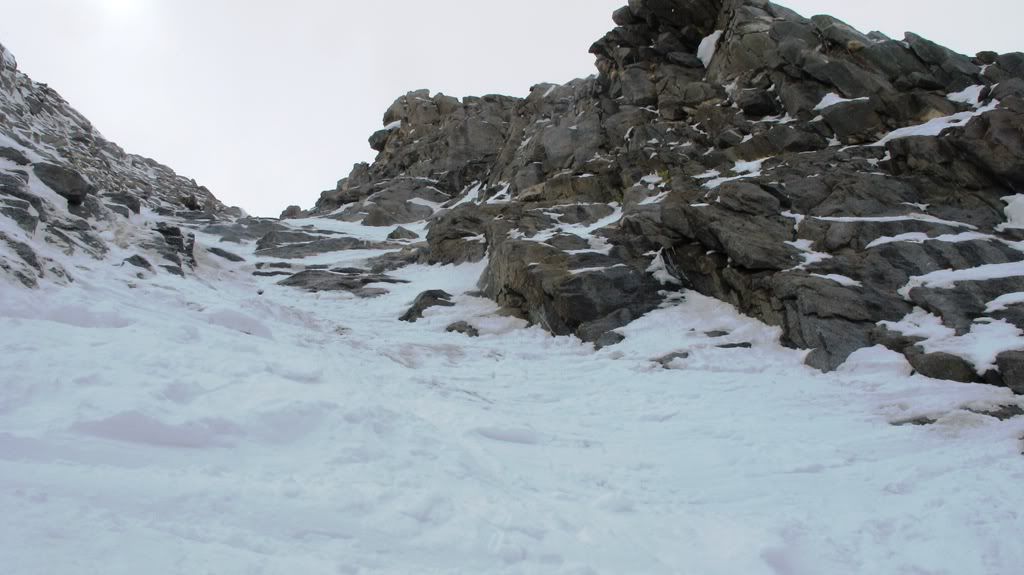 I had the camera while navigating the above gnar. Looks mellow, huh! Try WI2+/easy M downclimbing with snowboard on and both tools used to the fullest. Bar none the gnarliest, most exposed, and highest consequences downclimbing I've ever done. Place/hook/steinpull tools on ice/rock and tick tack the snowboard from water ice/rock tier to the next. Maybe 15 vertical feet of this. Jones said the navigation was the raddest thing he's seen in the mountains, years of experience keeping the skilled alive (kinda haha, I've had my share of gnar, but at least this time I was fully in control). Major focus needed to stick this zone. But when we got out, the farmland awaited before the second crux:
Booyah! Can't go 110% though, since rocks and ice linger... Jones is located lower right, scooping the next crux zone of mixed water ice and rock.
Crux is in upper right. A little air and a stick into a fat turn, aint no thang for tha SWISHA HOUSE!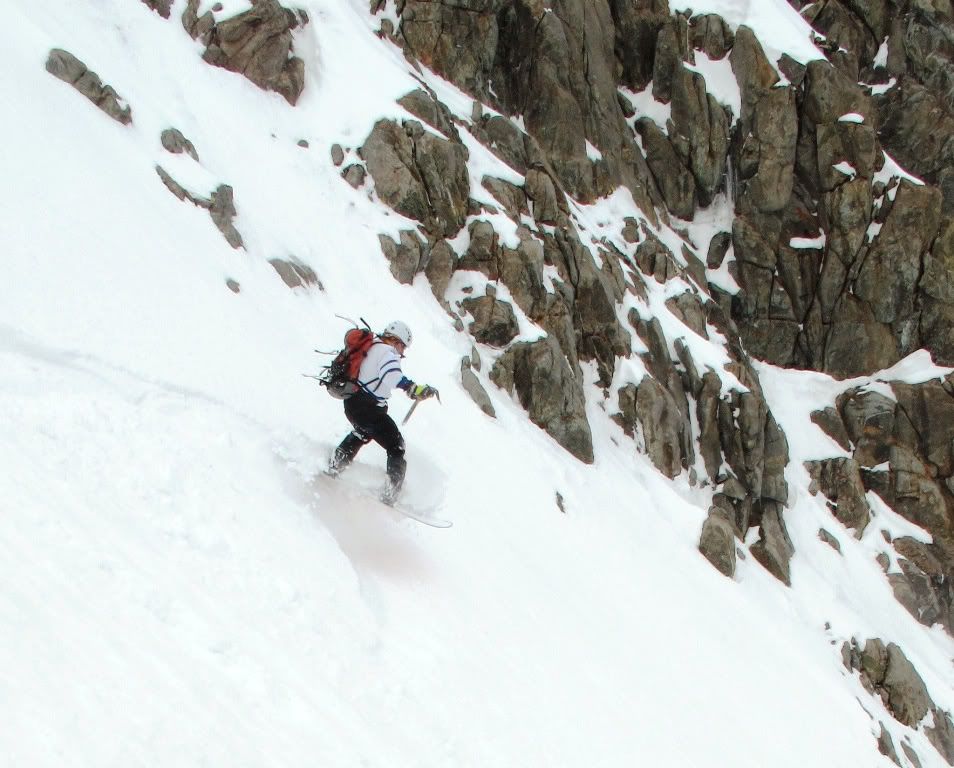 So so good. Time for an OLLIE!!!! Wheeeeeeeee!
Hello, Thumb! Fantastic snow here. Throughout the line you'd have mind boggling deep turns and then a few water ice/rock skkkkkkrrrrrttttzzzzz instances. Keep yo game face on!
Goin back to Cali? Naw, we already hurr!
Over the head and through the ears blower in the middle part of the chute. Thanks for the stellar snow, ULLR! 100% shred.
Keeps on goin! Yes! note exit cliffs >60ft. Very simple bash scripting can be done to avoid or send exit cliffs depending on the mood and remaining fuel in rocket boosters. We opted to stay near the ground.
Clean living! Blower pow, thin rocks, water ice, LOVE IT!!!
Final crux!
Oh my gosh...
...he shredded it! Hello Nee-na-mee-she! Guardian of the Valley!
Post shred stoke-look-back! Woo hoo! Just got off the phone with the Aiguilles d'Chamonix, they want their line back. Sorry, it belongs to the SIERRA CREST YO!
Finger lake hallwall-halfpipe was one of the coolest features on the Eastside I've gotten to shred spaced out fat corn while it is snowing turns on ever. So cool. Pretty mind bizzoggled at this point and the storm in full effect up high. Bye Sierra Crest! Thanks for the Fabulousness!
Hands down, my favorite descent in the Sierra Nevada, and in the conditions we rode it in, the most technical. Fantastic to get to ski it with the range's best shredders. Tequila, beer, and burritos never tasted better. OH YEAH!